Description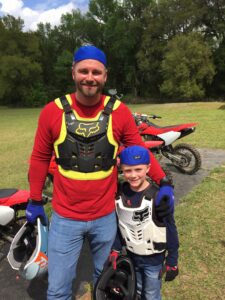 Family fun dirtbike adventure in Florida!  Please contact us via text or call to check for availability of appointments at 813-410-4547 as our Dirtbike Ranch in Bushnell Florida is a Private Facility (you must have an appointment and cannot just show up at our front gate).  We typically only host 1 family per day and whoever books the date on the website, gets that date so don't wait till the last minute to make an appointment.
If you book an appointment without communicating with us in advance we may have to cancel your order.  All Dirtbike Adventures need to be purchased on this website no later than 2 pm the day before your appointment or we cannot guarantee to have the necessary staffing to host your family.  Everything we do is outside, we clean all equipment and surfaces in our facility to Covid19 standards but like most other businesses cannot guarantee you will not get a virus at our facility.  We provide high top boots, all safety gear, water, Gatorade R, snacks, bathrooms, training and dirtbikes of appropriate size (at the discretion of our staff).  No vehicles of any kind are allowed into our facility (no dirtbikes, no cars).  No helmets or equipment of any kind are allowed into our facility for safety reasons.
Dirtbike riding is a dangerous sport that can cause serious and permanent injuries so we do not recommend you bring children or adults with issues that could cause injuries due to a lack of comprehension or coordination capability such as Hyperactivity, ADHD, OCD, Learning Disabilities of any kind, Autistic issues, Listening Skill issues, Physical or Muscle issues or any other health issues from medicines or alcohol or medical marijuana.  Please contact us in advance:  if any health issue exists for any of your riders so we can discuss how to keep your family safe.  Parents who do not want to ride are welcome to come watch but are agreeing to the terms in the waiver as to not sue us for any reason.  We No Longer host groups of men for safety, liability and maintenance reasons.
**The weight limitation for all riders is 250 pounds